All the NewImages Festival Awards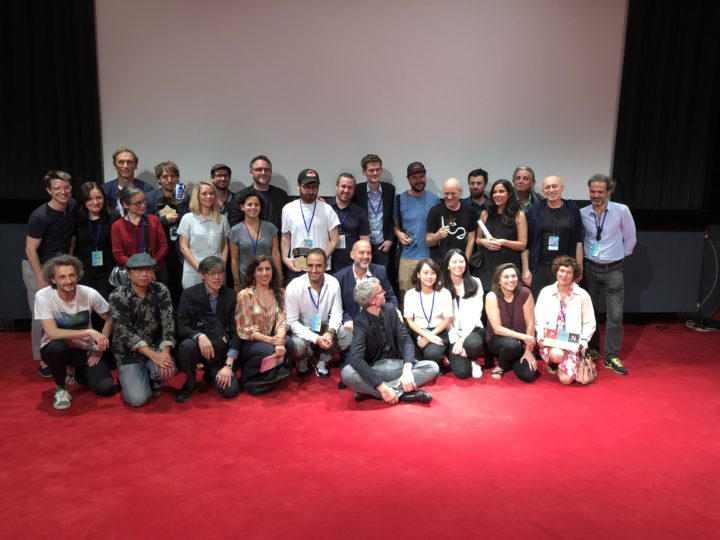 The NewImages Festival, a Forum des Images event, announced the winners of its sophomore edition today. Located in the heart of Paris, NewImages is a celebration of the vibrancy of digital creation and virtual worlds, with an international program that is open to groundbreaking immersive works and experiences.
The NewImages Festival awards seven prizes, symbolizing the diversity of the selected works.
Aside from the members of the various judging panels, other world-renowned figures in the fields of XR and digital creation attended the ceremony, including Vicki Dobbs Beck and Mark Miller (ILMxLAB), Daniel Lehrich (Magic Leap), Mária Rakušanova (HTC Vive, GB), Nelly Gocheva (The New York Times), Sarah Ellis (The Royal Shakespeare Company), Zillah Watson (BBC) and Grace Huai-Chin Lee (Kaohsiung Film Archive).
3 PRIZES FOR THE INTERNATIONAL VR COMPETITION
Out of the 12 VR works and experiences in competition, the jury of the NewImages Festival awarded two prizes and a special mention. The jury, presided by US filmmaker Colin Trevorrow (Jurassic World), featured Legendary Entertainment producer Katie Calhoon, choreographer and director Bianca Li, and Taiwanese new media artist Hsin-Chien Huang.
GOLDEN MASK / Gloomy Eyes (France, Argentina, Taiwan, USA)
Directors: Jorge Tereso and Fernando Maldonado
Producers: AtlasV, 3DAR, Arte France, RYOT, HTC Vive
Prize worth €10,000
SPECIAL PRIZE BY THE JURY / Wolves in the Walls : It's all over (USA)
Director: Pete Billington
Producers: Fable Studio, Facebook Sound+Design
Special Prize worth €5,000
SPECIAL MENTION / 7 Lives (France, Belgium, Luxembourg)
Directors: Jan Kounen, Charles Ayats, Sabrina Calvo
Producers: Red Corner, France Télévisions, a_Bahn, Frakas Productions
4 PARTNER PRIZES
Kaleidoscope XR Financing Market Award
Néphélé (France)
Director: Alexandre Perez I Producer : Floréal Films
NewImages' brand-new XR Financing Market brought together the most influential figures from around the world to assess forty projects seeking funding. The Kaleidoscope Fund, a global platform for immersive work creation, partnered with the Festival to award this prize.
The interactive and free-roam VR experience Néphélé by Alexandre Perez, a Floréal Films production, was awarded the prize for best project in development by Kaleidoscope founder René Pinnell, who will also include it in the Kaleidoscope Slate Funding 2019, an innovative funding platform that aims to support the ten most innovative AR or VR works, with budgets ranging from $100K to $1M.
"Néphélé exemplifies what we're looking for at Kaleidoscope: a work of art that pushes the medium forward and delivers an experience that is both technically innovative and commercially viable. We are so grateful for NewImages to be featuring this amazing project, and we can't wait to work with the creative teams to finance and produce Néphélé!" René Pinnell said.
French-Taiwanese VR Creation residency
Atlas (France)
Director: Yann Deval (VR Artist)
As part of its continued international outreach, the NewImages Festival is launching the very first French-Taiwanese VR residency, in partnership with the Kaohsiung Film Festival and Taipei's French office. Over three months in Kaohsiung, it will give a French creator a unique opportunity to develop their innovative VR project, with €30,000 in funding. The completed project will have its world premiere at the Kaohsiung Film Festival, and will also be showcased at the 2020 NewImages Festival.
SCAM PRIZE FOR NEW STORYTELLING
-22,7°C (France)
Directors: Jan Kounen, Molécule, Amaury La Burthe
Producers: Zorba, Arte France, Novelab, DVgroup
This prize is awarded to a French-speaking VR or AR work (excluding fiction) that features innovative storytelling or technical expertise. The jury consisted of Laetitia Moreau, Jean-Jacques Gay and Lyonel Kouryo (SCAM authors).
Missing (Australia)
Directors: Kylie Boltin, Matt Smith, Tamara Dean and Jono Yuen I Producer: SBS Australia
The Digital Experiences Producers Association (PXN) awards it prize to a non-XR work that stands out for its aesthetic, technical and narrative qualities.