All the NewImages Festival Awards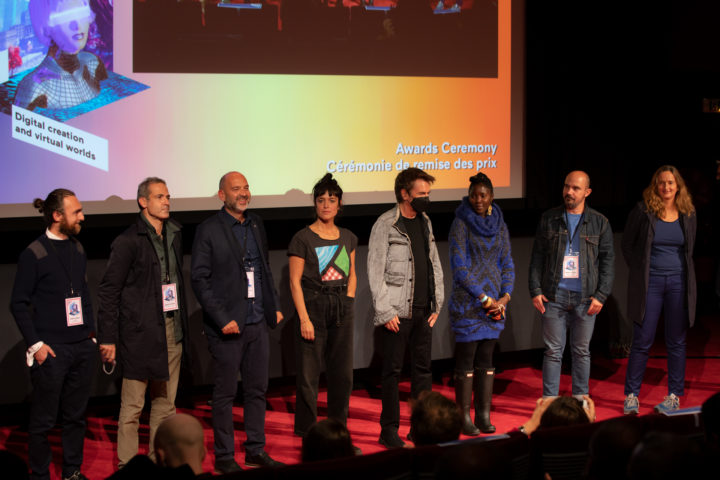 The NewImages Festival, a Forum des Images event, announced the winners of its 3rd edition this Friday September 25. Located in the heart of Paris, NewImages is a celebration of the vibrancy of digital creation and virtual worlds, with an international program that is open to groundbreaking immersive works and experiences
The NewImages Festival awards five prizes, symbolizing the diversity of the selected works.
3 PRIZES FOR THE INTERNATIONAL XR COMPETITION
The Jury, presided by Jean-Michel Jarre, and composed of Julie Bertuccelli, Jérémy Clapin, Alice Diop and Vimala Pons awarded the three prizes of the XR Competition
The Golden Mask
for the best experience in virtual reality
Bodyless (Taïwan)
Director: Hsin-Chien Huang
Producers: Virtual and Physical Media Integration Association of Taiwan
Prize worth €6 000
Two Special Jury Prizes ex-aequo for two experiences in virtual reality
Ferenj: A Graphic Memoir in VR (United States)
Director : Ainslee Robson
Gravity VR (Brazil / Peru)
Directors : Fabito Rychter, Amir Admoni
Producer : Delirium XR
Prize worth €3 000
The Special Jury Prize for an experience in augmented reality
MOA – My Own Assistant (France)
Directors : Charles Ayats, Franck Weber, Alain Damasio, Frédéric Deslias
Producers : Red Corner, France Télévisions, Le Forum des Images, La Volte, le Clair Obscur, Small Studio, Chroniques
Prize worth €3 000
XR Financing Market
The winning project will integrate the Kaleidoscope Slate Funding 2020
A City of Foxes (France)
By Nihaarika Negi
Producer: Rémi Large and Samuel Lepoil – Tamanoir Immersive Studio
NewImages' XR Financing Market brought together the most influential figures from around the world to assess forty projects seeking funding. The Kaleidoscope Fund, a global platform for immersive work creation, partnered with the Festival to award this prize.
Taiwan VR Residency
The creator will attend a residence for three months in Kaohsiung to develop his project
The Guardians of Jade Mountain (France)
By Hayoun Kwon
Producers: Baltazar Auxietre and Richard Turco – Innerspace VR
As part of its continued international outreach, the NewImages Festival is launching the very first French-Taiwanese VR residency, in partnership with the Kaohsiung Film Festival and French Office in Taipei.