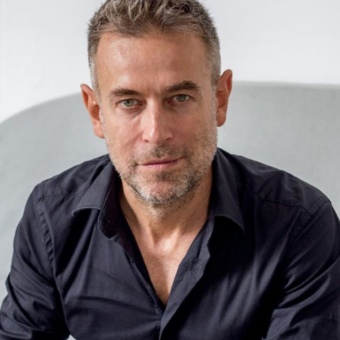 Louis Cacciuttolo
Louis Cacciuttolo is the founder of VRrOOm, an influential online media platform dedicated to VR.
In 2018, he launched the VRrOOm XR app, which hosts the XR selections of international festivals.
Louis worked as Vice-President of THX, a George Lucas company specializing in cinema technology.
He was the owner of the Théâtre du Minotaure in Béziers from 1999 to 2020. He is also a screenwriter, director, and producer of awarded films including the feature Cendre in 2014, and the animated short interactive VR film The Last Footprint in 2016. He co-produced the AR installation Digitalis, a participative work by artist Pierre Estève, adapted in augmented interactive audio with the immersive sound studio Demute, which premiered at Stereopsia Brussels in 2019.
Since March 2020, VRrOOm has launched its social XR cultural hub, dedicated to the live streaming and 6DoF broadcasting of artistic performances and live shows on VRChat, working with international artists such as Jean-Michel Jarre.
| | |
| --- | --- |
| Job | Founder, CEO |
| Company | VRrOOm |
| Country | France |
All the guests