Futur@Cinéma and the MediaTech Sprint at the Forum des images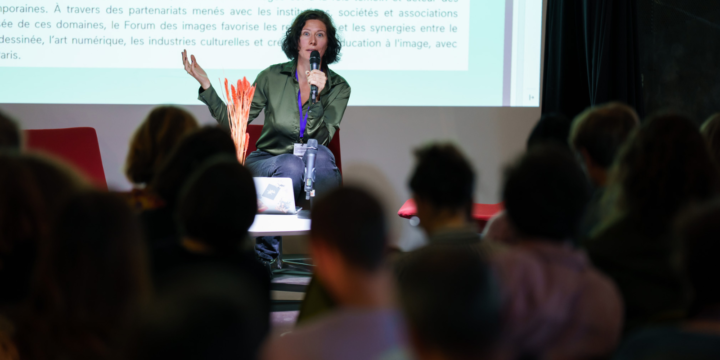 From June 5 to 6, the Forum des images hosts the 4th step of the Futur@Cinéma's Challenge as well as the MediaTech Sprint. The goal? Winning audiences back in theaters!
The Futur@Cinéma's Challenge
Futur@Cinéma is an accompanying and accelerating course for innovating projects, from the concept to the prototype, from the idea to the experimentation.
All the project holders have now been collaborating for 9 months, dedicating their time to the development of 8 innovating projects. They will meet in Paris from June 5 to 6 to complete their proposals, prepare their entry into experimentation, before the feedback of their works at La Rochelle on July 6, 2023.
This step is also the occasion for the project holders to meet the representatives of the City of Paris, local professionals as well as strategic partners.
The MediaTech Sprint
The MediaTech Sprint is a co-creative workshop proposed by 10 Creative Europe Desks (Berlin-Brandenburg and Munich, Catalonia, Croatia, the Czech Republic, Denmark, Estonia, France, Italy and Sweden), in collaboration with the MediaTech Hub, Futur@Cinéma and the Forum des Images.
This innovation workshop will take place on Monday, 5th of June, at the same time as the Futur@Cinéma step. It will enable 4 companies from the European audiovisual and cinematographic industry (the "Challenge Owners") to develop solutions for one of their commercial challenges thanks to the advices of European interdisciplinary experts (the "Co-Creators ").
The program
Monday 5th June
9.30AM: Reception and introduction of the step
9.45AM: Start of the MediaTech Sprint works / Exchanges between the teams of Futur@Cinéma
10.15AM: Visit of the Forum des images
10.30AM: Installation in groups and start of the works
11.45AM: Presentation of the actions and devices of the City of Paris, the incubator Paris&Co and the Independent Cinemas of Paris
1PM– 2.30PM Lunch Futur@Cinéma / Media Sprint
2.30PM–6PM: Work sessions in teams and individual meetings
5PM: Feedback of the Media Sprint works
6PM–10PM: Cocktail and video games session
Tuesday 6th June
9.30AM: Welcome of the participants
10AM: Exchanges between the project holders of Futur@Cinéma and the MediaTech Sprint participants about the settlements of innovating projects in Europe.
11.30AM: Work sessions in teams and individual meetings
1PM: Lunch
2PM: Pitchs of the Futur@Cinéma projects (under invitation only)
3.45PM–5.30PM: Exchanges in small groups about their projects and their experimentations
6PM: Closing of the step
As a private event, if you wish to attend the presentation of the projects on June 6 from 2PM to 3.45PM, you can adress your demand to the Futur@Cinéma's team by writing to: retourversle@futur-cinema.com