Quito – UDLA Immersive Residency: call for XR artists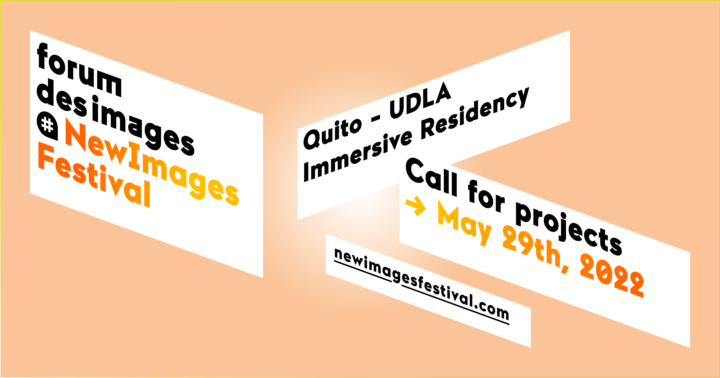 NewImages Festival supports immersive creation in Latin America through a LATAM Focus to be discovered from June 8 to 12. This edition also inaugurates a new device for authors with the creation of a new writing residency in Quito!
Launched in 2022 by the Alliance Française de Quito, the Universidad de las Américas (UDLA) and the NewImages Festival by Forum des images, the Quito – UDLA Immersive Residency is a brand new program never seen before in Ecuador dedicated to immersive creation.
The program is open to all immersive projects and allows a French creator or a creator residing in France to live an unique experience and to benefit from a privileged moment to work on his/her project, as well as to develop his/her professional network. Also, the program has been designed in such a way that it will be the opportunity to strengthen connections and create new synergies between France and Ecuador in the field of creative innovation.
The 2022 edition of Multifest will have "Heritage" as its theme, and special attention will be paid to projects related to it.🌎
🗓 Agenda
The program will be held at the Universidad de las Américas (UDLA) from October 31th to November 20th, 2022, plus the stay during the Multifest 2022 event from November 21st to November 25th. At the end of the residency period, the selected artist will also have the opportunity to participate in the Multifest 2022 in Ecuador.
The project supported by the Universidad de las Américas (UDLA), Alliance Française de Quito and the NewImages Festival or a prototype of the project must be completed by November 20th, 2022 and must be shown as Latin American premier to the Multifest 2022. At the end of his/her residency, the selected creator will be asked to submit a report of his/her experience, work and the evolution of the project during this period. Once the project is finished it must be presented as European premier to the next edition of the NewImages Festival 2023.
📢 Applicants profile
Artist, creator or project holder
Aged 18 years and over
French of living in France
Speaking English and/or Spanish
Experienced professional with previous projects in the field
📌 Advantages
The selected creator will be provided with:
A 3-week residency at the Universidad de las Américas (UDLA) : From October 31 to November 20, 2022
Invitation to Multifest 2022: From November 21 to 25, 2022
An endowment of 2.000 € (production and catering costs) and complete coverage of the trip (accommodation and flight)
Connections with the local XR ecosystem
A full access to all technical equipment and resources of UDLA
Exclusive exhibition of the project at the NewImages Festival 2023
Exclusive presentation of the project as "Latin American Premiere" at Multifest 2022
Accreditation for the Industry Days (NewImages Festival) in 2023
Deadline Sunday, May 29 2022