XR Financing Market: NewImages & Kaleidoscope announce a prestigious award!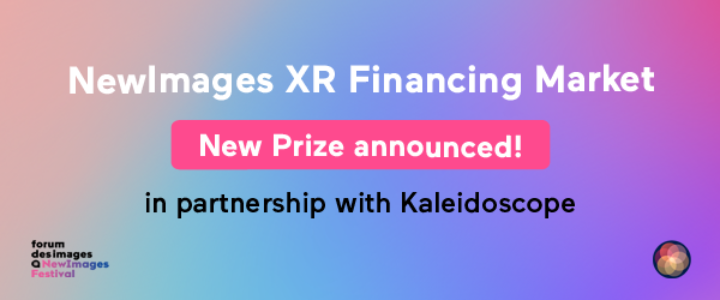 The best work in progress pitched during XR Financing Market will be included in 2019 Kaleidoscope's Slate Funding.
"At Kaleidoscope, our mission is to help artists raise money for original projects. I'm excited for our collaboration with NewImages, as their XR Financing Market has quickly become one of the most important events for fundraising for innovative work."

René Pinnell, CEO Kaleidoscope
Today, we are thrilled to announce that projects selected for NewImages XR Financing Market (20 June) will be running for an inclusion in the 2019 Kaleidoscope Slate funding!
Announced by René Pinnell (Kaleidoscope CEO) during NewImages Award Ceremony (22 June, Le Forum des images), the winner will be included in the slate of 10 projects selected to pilot this new funding model launched by Kaleidoscope.
2019 Kaleidoscope Slate Funding has been announced on March 10th 2019 at SXSW, and will be launched this summer. Kaleidoscope is a funding platform for immersive art and entertainment building a new model for financing XR projects. 10 VR or AR projects in the budget range of $100k to $1M will be included in 2019 Kaleidoscope Slate Funding.
A special delay has just been announced for XR Financing Market – Call for Projects. Projects shall be submitted no later than 8 April 2019 at 11:59pm (GMT)
Find out more
Everything you need to know about NewImages XR Financing Market, a new and unique funding and co-production market, entirely dedicated to original, immersive content ► ► ►
About Kaleidoscope Fund: Established in 2014 by producers René and Selena Pinnell, Kaleidoscope is a funding platform for immersive art and entertainment. Playing a central role in the artistic renaissance of virtual reality, Kaleidoscope has raised over $14MM for original projects including the first seven-figure deal for a VR film at Sundance. With a commitment to creative exploration, Kaleidoscope has produced some of the industry's most groundbreaking work including the animated VR film BATTLESCAR, starring Rosario Dawson, and the VR series SPHERES, starring Jessica Chastain and Patti Smith and executive produced by Darren Aronofsky. Kaleidoscope projects routinely premiere at major festivals such as Sundance, Tribeca, and SXSW, and the artists who work with Kaleidoscope are widely recognized as the most innovative voices in virtual reality today.