Legends of the Brush: The Girl and the Crane
XR Competition | World Premiere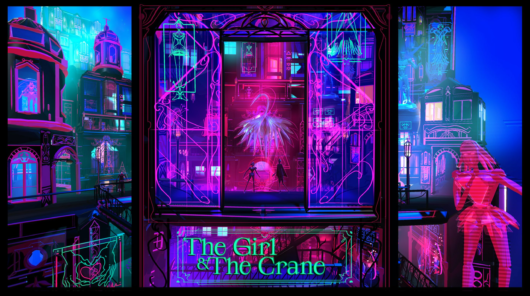 Step into a wild collection of colourful fables created in virtual reality from the mind of Eisner-nominated digital artist Sutu. From a disgraced fashion designer's deal with an unlikely partner to a young girl's quest to find the creator of the universe, each fable features stunningly unique art styles and game mechanics.
• EPISODE 1: THE GIRL & THE CRANE •
When, Hermanio, an arrogant fashion designer hits rock bottom, a chance encounter with an injured crane sets his life on a new path. Presented as an interactive diorama, you will follow Hermanio across his City. In your hand you will hold a magical lens that allows you to zoom in on moments of Hermanio's life whilst also triggering additional audio and animation.
| | |
| --- | --- |
| Location | hall d'accueil (Forum des images) |
| Lead Artist | SUTU |
| Production | RYOT (United States) |
| Genre | Experimental, Animation |
| Duration | 10' |
| Year | 2020 |
| Language | English |
| Format | VR 6DOF |
Sessions
Included in 2-hour package, subject to availability*
* With two-hour spot, enjoy the Forum des images' various experiences.
Schedule
Session 1 11am – 1pm
Session 2 1pm – 3pm
Session 3 3pm – 5pm
Session 4 5pm – 7pm
* With two-hour spot, enjoy the Forum des images' various experiences
Schedule
Session 1 11am – 1pm
Session 2 1pm – 3pm
Session 3 3pm – 5pm
Session 4 5pm – 7pm