NewImages Festival unveils its 2022 jury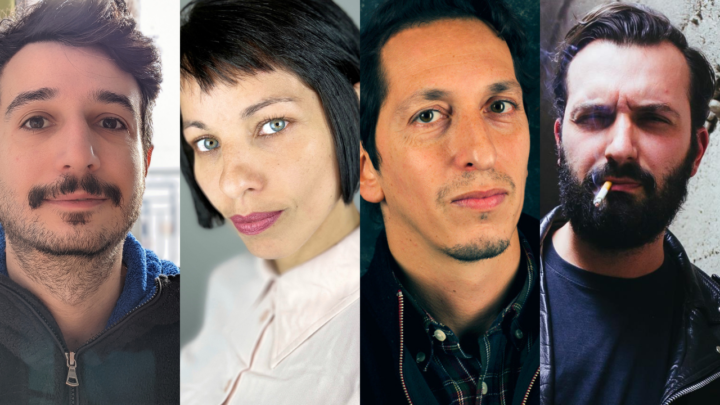 For its fifth edition, the NewImages Festival brings together 4 artists from different backgrounds such as cinema, music and virtual reality. This multidisciplinary jury will have to decide among the 15 works in Competition to award the Golden Mask 2022 as well as the other prizes. Results on June 10!
Priscila Guedes | Director, cinematographer
Priscila Guedes graduated from the National School of Fine Arts in Rio de Janeiro, where she studied visual arts, before specializing in technological issues around cinema. She has signed the direction of photography for feature films such as Mr. Stein Goaes online (S. Robelin) and Skokan (P. Vaclav).
Pushing the image further and further, she became a film director and won 9 global awards for her latest experimental fiction film in 2021, Ocean. Priscila Guedes is actually the founder of BIG WAVE VR game, a TOP 10 Swiss startup (awarded in Taiwan in 2022 in the categories of Sports Innovation and Strategic Intellectual Property in Technology).
Stéphane Foenkinos | Author, director
Screenwriter for television (Hard, Fais pas ci, fais pas ça…) and cinema (notably with his brother, the novelist David Foenkinos) with La Délicatesse in 2011, Jalouse in 2017 and Les Fantasmes in 2021, Stéphane Foenkinos has directed Audrey Tautou, Karin Viard, François Damiens, Jean-Paul Rouve, Monica Bellucci, Denis Podalydès, Carole Bouquet, Ramzy Bedia…
As a solo artist, he adapts and directs for the theater, notably Noire and L'Assignation by and with Tania de Montaigne or Les soirées Improbables in collaboration with Arthur Nauzyciel. As he takes transmission to heart, Stéphane regularly intervenes in schools, universities, prisons or in companies.
Abel Kohen | Author, director
Graduated from Supinfocom in 2010, Abel Kohen is a French writer-director with a solid background in animation and visual effects. Since his early childhood, he was determined to become a director, an ambition fueled by a passion for cinema and video games.
After collaborating on Cartoon Network's The Wonderful World of Gumball or the series Black Mirror and Primal for Netflix, he directed several short films awarded in festivals, including the virtual experience Biolum (Audience Award SXSW 2021, UniFrance NewImages Award 2021, Future is Sensible GIFF Award 2021…). More recently, he directed and animated a 26-minute sequence for Wu Tsang's installation Of Whales at the Venice Biennale 2022.
Tomas More "December" | Musician, composer, singer, author
Tomas has been composing and playing under the name December for 7 years now. After releasing EPs on the most famous labels of the European electronic scene: Jealous God, Blackest Ever Black, Mannequin, Pinkman, Return to Disorder, L.I.E.S or Veyl; with a regularity, a constancy and a remarkable requirement, his discography is very widely acclaimed by the world electronic scene.
His particular style, powerful and melancholic, minimalist and romantic, dark but overflowing with emotions, characterized by his particular use of vocals and his voice, makes him a special artist at the crossroads of post-punk, techno, ambient, electro, IDM and EBM.
His first album will be released in November 2021, soberly called Début, on the label of British producer Broken English Club. With the photographer Marie Quéau they will propose a live AV in world premiere on June 4th 2022 at the festival Le Bon Air in Marseille.